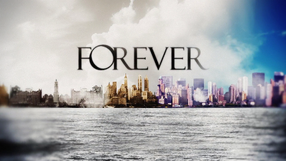 Forever is an ABC supernatural/medical drama from writer/executive producer Matt Miller. The story centers on Dr. Henry Morgan, New York City's best medical examiner, but what no one knows is that Henry studies the dead for a unique reason -- he is immortal. With the help of Detective Jo Martinez, the layers will be peeled back on Henry's colorful and long life through the cases he is involved with.[1]
The show was confirmed that it would not be renewed for a new season. Through varied sources from Ioan Gruffudd himself to the actual ABC network confirm it so. Much to the disappointment of many fans.
Cast and characters
Edit
Main article: Crew
There were thirteen writers and fourteen directors for the series.
Warner Bros. Television
Lin Pictures
Main article: Episode guide
External links
Edit
References
Edit
Ad blocker interference detected!
Wikia is a free-to-use site that makes money from advertising. We have a modified experience for viewers using ad blockers

Wikia is not accessible if you've made further modifications. Remove the custom ad blocker rule(s) and the page will load as expected.